Sleek, gently curving handles feel comfortable in your hand, while more solid angular styles accentuate a contemporary home. Locking fittings in a range of finishes and colours can add seamless functionality to your living spaces, ensuring your home looks good as well as helping to ensure you're safe and sound.
Schlage Verta
Classic designs with a modern twist, the stunning Schlage Verta range sets a new standard for innovative style. From the striking entrance pull handle to the design and detailing of vented window fasteners, Verta is sure to be a stand-out feature in your home. They are crafted from the highest grade solid stainless steel.
Schlage Kanso
Schlage Kanso suite of aluminium door and window hardware embodies the principals of simplicity, with a look of subtle and minimalist, yet cohesive and contemporary. Every element of the Schlage Kanso suite has been carefully engineered and locally tested to ensure strength, style and harmonious design flow throughout the home.
Schlage Encode
The revolutionary Schlage Encode Smart Wi-Fi Deadbolt connects directly to your home Wi-Fi. There's no need to purchase an extra accessory or hub to control your lock from anywhere, making it easy and intuitive to use.
Simply pair your lock with the Schlage Home app on your smartphone to lock and unlock your door from anywhere. You specify who has access and when by setting up to 100 codes, or send virtual keys to trusted friends, family or guests via text or email. Receive notifications when your lock has been accessed.
Colours: Satin nickel or black
Schlage Ease
Go keyless with the Schlage Ease™ Smart Deadbolt and Entry Lock range.
Consider the sleek design of the deadbolt or the convenience of the entry lock, providing the family convenience and security for smarter living.
Pair your lock with the Schlage Abode app on your smartphone, for effortless access and control of your lock.
Colour: Black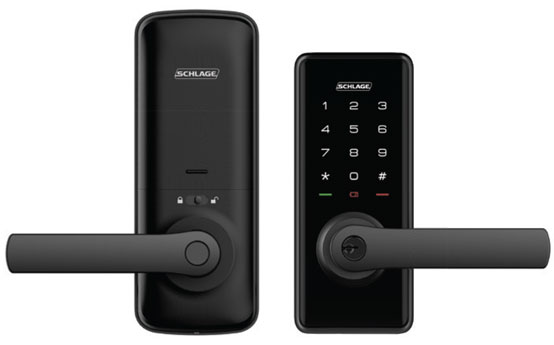 We'll find the best solution in keeping with your lifestyle requirements and budget, and we aim to make the whole process as stress free as possible.
for your FREE quote today.
81a Gasson Street
Sydenham, Christchurch
Monday to Friday
8:00 am to 5:00 pm
Weekends by Appointment